– Due to the Covid 19 pandemic situation, the opening hours at our restaurant are different between days.  Please contact us by phone: 00-354-453-8170 for more information. –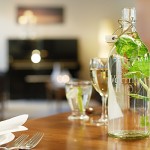 At Hotel Varmahlíð we concentrate on providing comfortable experience, good local food and personal service in our restaurant. We cooperate with local farms and therefore try our best to offer the best ingredients the region has to offer.
Over the summer the restaurant is open every day.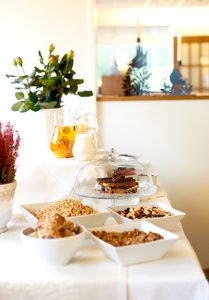 Start the day by having breakfast at the hotel. We offer a typical European breakfast buffet every morning which is ideal for early travelers, campers, or other tourists staying in the area. If you want to enjoy breakfast at the hotel, please contact us the evening before.
During the day, the restaurant invites you to drop by, have a wonderful cup of coffee and a delicacy, an ice-cold beverage or a light course from the menu which we have specially selected each day.
In the evening we offer varieties of fresh courses where the focus is on local food.
The dining room seats around 80 people.
We are happy to welcome all kinds of groups, friends, family, birthday celebrations, etc. If your group counts over 10 persons, please let us know in advance.
During the winter season, we are happy to open the restaurant for groups if reservations are made with a few days advance.