River rafting
Few will forget their experience of rafting down the rapids of either of Skagafjörður's two glacial rivers. In addition to the pure fun and excitement of floating through magnificent surroundings, one gets a clear, cross-sectional view of the last 8 to 9 million years of area geology. Since people can select different levels of difficulty, families and daredevils alike will find something suitable.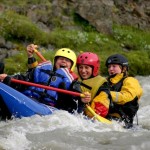 The east river is considered one of the best in Europe for rapids rafting (rating: +4), while the west river will suit anybody (rating: +2). Safety and professional service are ensured by the years of experience behind the Skagafjörður rafting companies. More information is available on Bakkaflöt Rafting or Viking Rafting.
Hiking

The local combination of Nature, history, and culture makes Skagafjörður a highly interesting vacation destination. From the coast to mountain peaks, numerous recreational opportunities present themselves, such as the marked trails to the tops of Mælifellshnjúkur, Hólabyrða and Tindastóll mountains. While walking, your surroundings can be enlivened by local history and culture, such as the Icelandic sagas of Grettir and the Sturlungs.
Trail maps and other useful information regarding treks and mountain cabins can be obtained at the Tourist Information centers in Varmahlíð and Sauðárkrókur.
Sailing

A boat trip out to Drangey is an adventure, the island being a pearl of nature in the middle of the fjord. The island is a sheer-sided palagonite rock approximately 180m high and provides a wonderful view over the whole fjord. The birdlife on the island is diverse, although the most predominant varieties are puffins and guillemots.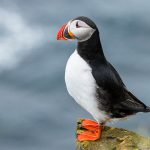 The trip takes on average around 4 hours, this includes the trip out to the island, the hike to the top, and bird watching, whales are also often spotted on the journey to and from the island.
For more information or to book the tour please visit Drangey Tours website: https://www.drangey.net/
Golf and Skiing
Hlíðarendi Golf Course is located just above Sauðárkrókur and is the longest 9-hole golf course in the country, situated in idyllic country surroundings. With plenty of traps, this course is a fun challenge for all golfers.
Tindastóll Skiing Area: The ski area on the mountain Tindastóll towering above the town of Sauðárkrókur is suitable for the whole family, with slopes for both beginners as well as the more experienced. It also has a cross country skiing track.
At visitskagafjordur.is you'll find more information on the highlights of Skagafjörður, including protected areas, viewpoint indicators, monuments, national heritage sites, etc. Come to Skagafjörður and make one with Nature!