The Restaurant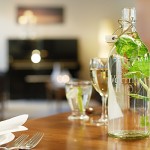 At Hotel Varmahlíð we concentrate on providing excellent local food and first-rate service in our restaurant. We cooperate with local farms and therefore can guarantee the best ingredients the region has to offer.
The Hotel Restaurant has a pleasant athmosphere for either breakfast or dinner. The dining room seats around 80 people.
The Hotel Varmahlíð restaurant is open daily from May 20. to September 15., offering soup and bread, a salad buffet and other light meals at lunchtime for groups booking in advance. Enticing buffet offerings appear on the evening menu, with top-notch dishes. At other times during the day, the restaurant invites you to drop by, have a wonderful cup of coffee and a delicacy to go.
During the winter season, restaurant services must be booked in advance. On the other hand, in winter we do not follow any fixed menu, but instead strive to our outmost to fulfill the wishes of our guests.
Our Wild Game Feasts, Horse Feasts and Christmas Buffets are examples of traditional Icelandic events that are very popular at Hotel Varmahlíð and we welcome locals as well as guests coming from far away.
Groups menu
In the winter time, from 15th of  September until 15th of May the Restaurant is only open for groups and dinner reservations have to be made in advance.

Check out this video made by the Iceland Local Food Guide: