Hotel Varmahlid Rooms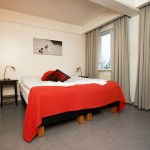 Our rooms
Hotel Varmahlíð has 19 comfortable rooms and can accommodate nearly 40 people in all.
Each of them varies in size, ranging from single to double and large family rooms for up to five people. We can provide children's beds upon request.
Each room offers the following amenities:
Private bathroom with shower
Television
Alarm clock with radio
Desk
Hair dryer
Coffee / Tea Facilities
Free Wi-Fi
Not only do photos of Skagafjörður beautify the walls, but most rooms also provide a superb view over the surrounding mountains. Let us know if you would like a wake-up call for Northern Lights, they love making the show here Skagafjörður!