Museums in Skagafjörður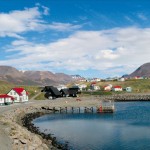 Skagafjörður, in North Iceland, has a rich background represented by a variety of historical sites, that are precious testimonies of the region's history.
Not far from Hotel Varmahlíð , you will find many museums and exhibitions which are well worth a visit. Most noteworthy are the turf church at Víðimýri; the heritage museums at an old turf farmstead, Glaumbær, and Minjahúsið in Sauðárkrókur; the exhibitions and buildings at Hólar; the old stable at Lýtingsstaðir, the regional transportation museum, and the Icelandic Emigration Centre at Hofsós.
You can obtain further information from the Varmahlíð Tourist Information Centre or from visitskagafjordur.is.