Great Outdoors excitement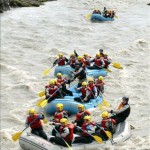 Few will forget their experience of rafting down the rapids of either of Skagafjörður's two glacial rivers. In addition to the pure fun and excitement of floating through magnificent surroundings, one gets a clear, cross-sectional view of the last 8 to 9 million years of area geology. Since people can select different levels of difficulty, families and daredevils alike will find something suitable.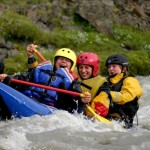 The east river is considered one of the best in Europe for rapids rafting (rating: +4), while the west river will suit anybody (rating: +2). Safety and professional service are ensured by the years of experience behind the Skagafjörður rafting companies. More information is available at the hotel, as well as at Varmahlíð Tourist Information Centre.
Further information on Bakkaflöt.com and Rafting.is .
Get your dose of excitement by enjoying the great outdoors of Skagafjörður!