Recreational opportunities in the Nature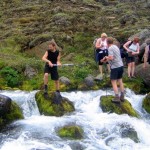 The local combination of Nature, history and culture make Skagafjörður a highly interesting vacation destination. From the coast to mountain peaks, numerous recreational opportunities present themselves, such as the marked trails to the tops of Mælifellshnjúkur, Hólabyrða and Tindastóll mountains. While walking, your surroundings can be enlivened by local history and culture, such as the Icelandic sagas of Grettir and the Sturlungs.
Not far from Hotel Varmahlíð, you can take a short walk through scenes of Iceland's biggest and bloodiest battles in the Sagas.
At visitskagafjordur.is you'll find more information on the highlights of Skagafjörður, including protected areas, viewpoint indicators, monuments, national heritage sites, etc. Come to Skagafjörður and make one with Nature!