Activities in the Neighborhood
There are many exciting things one can do in the neighborhood of the hotel.
Visit the Glaumbær turf house museum and enjoy a pancake and hot chocolate in the cozy old-fashioned tea room there. For those interested in the Icelandic horse, there are regular horse shows as well as horse rentals near the hotel.
The adventuresome can experience river rafting, or take unforgettable sailing trips to Þórðarhöfði, Malmey and Drangey islands where puffins and guillemots live in Summer time.
In Varmahlíð there is a short trail leading to the hill Reykjarhóll, where the hiker is rewarded with a great view over Skagafjörður region.
Last but not the least, one should enjoy the geothermal swimming pools and hot tubs.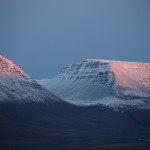 Discover the rich neighborhood of Hotel Varmahlíð through our different categories!
Find out more on www.visitskagafjordur.is .